Georgina Campbell, Derval O'Rourke and Neven Maguire are just some of the culinary contributors to a new healthy eating cookbook created to help lower the risk of cancer by two of Ireland's leading dietitians and cancer experts at University College Cork (UCC).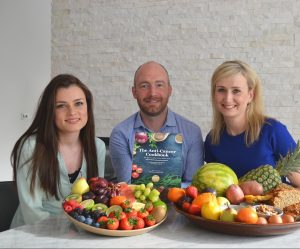 Packed with delicious, evidence-based recipes that help lower the risk of cancer and are suitable for all the family, 'The Anti-Cancer Cookbook: Recipes to Reduce your Cancer Risk' is the gift that will keep on giving this Christmas, as all proceeds go to registered Irish charity Breakthrough Cancer Research.
The unique cookbook was written and compiled by leading registered Irish dietitians, Dr Aoife Ryan, Senior Lecturer in Nutrition and Dietetics at UCC, and Dr Éadaoin Ní Bhuachalla, UCC PhD graduate and HSE Senior Primary Care Dietitian, who said they wanted to counteract the "rising tide of misinformation on cancer and nutrition" now circulating widely. They partnered with Breakthrough Cancer Research to create the book as a 'go to' evidence-based resource for people who want to cook and consume healthier food to lower their risk of cancer. The recipes in the book are also suitable for cancer survivors who are finished cancer treatment and have been advised to follow a healthy eating diet.
Published by Cork University Press, the book has been endorsed by the Irish Society of Medical Oncology, the Irish Nutrition & Dietetic Institute and the National Cancer Control Programme in Ireland and is supported by the World Cancer Research Fund which has established that approximately 40% of cancers are preventable through maintaining a healthy body weight, eating a healthy diet, and being physically active.
Unlike other anti-cancer cookbooks which Dr Ryan says are often based on "nutribabble and fads," 'The Anti-Cancer Cookbook: Recipes to Reduce your Cancer Risk' contains delicious and nutritious recipes from dietitians, well-known chefs, and oncologists, that are based on the most recent cancer prevention guidelines from the World Cancer Research Fund, the global authority on cancer prevention. The cookbook also lays out the ten cancer prevention recommendations from the WCRF in easy to understand language. Large epidemiological studies have shown that those that adhere to more than 5 of the WCRF recommendations on a long-term basis are predicted to have up to a 61% lower risk of dying from cancer.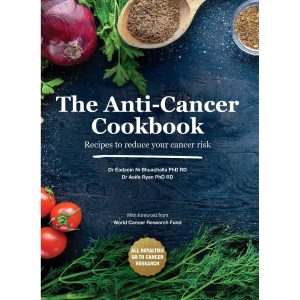 Cancer remains the number one cause of death in Ireland and is the second leading cause of death globally. The number of new cases of cancer is expected to rise from 18 million globally in 2018, to 30 million by 2040. Dr. Ryan says evidence-based health advice for cancer prevention is therefore invaluable, as around 4 in 10 cancers could be prevented.
Commenting, the book's co-author, Dr Aoife Ryan, said: "With a rising tide of misinformation on nutrition and cancer in the media, print and online, we wrote this book as an evidence-based resource for individuals who wish to eat a healthier diet to lower their risk of cancer. The recommendations and recipes contained in this cookbook represent a package of lifestyle choices which, together, can make an enormous impact on people's likelihood of developing cancer and other diseases such as diabetes and heart disease."
Dr Éadaoin Ni Bhuachalla (co-author), added: "The meals contained in this book are low in energy, fat and salt and high in fibre, vegetables and wholegrains. Scientific evidence shows that complying with the advice in this book lowers the risk of cancer at many sites in the body and this way of eating may improve the chances of longer-term survival after a cancer diagnosis."
The book contains a wide range of healthy recipes including some from well-known Irish chefs, Georgina Campbell and Derval O'Rourke.
Dr. Ryan said, "Among other contributors to our cancer prevention cookbook, Derval O'Rourke kindly gave us permission to include four of her specially selected recipes. These include a tomato and cannellini bean soup, a three-grain salad, a spicy chicken pitta and a chickpea and mango salad. They were all delicious and healthy recipes which met the cancer prevention dietary guidelines; they were calorie controlled, high in fibre, low in fat and salt, but more importantly were very tasty and we're very grateful to Derval for her contribution. Food critic Georgina Campbell also contributed a delicious and healthy fish pie recipe which we're delighted do have included in the book along with a range of fantastic, easy to make recipes from dietitians and oncologists that are based on the most recent cancer prevention guidelines from the World Cancer Research Fund."
Leading Irish chef and author, Neven Maguire, has also supported the book's publication, contributing an endorsement saying: "Since losing my mum to cancer and becoming a dad to my beautiful twins, I have a new appreciation of health and nutrition. It is so important to recognise that eating well really helps our overall wellbeing, our mental health and can help prevent cancer."
Commenting on the research behind the recipes, Dr Giota Mitrou, Director of Research, World Cancer Research Fund said, "The recipes in this book are based on World Cancer Research Fund's (WCRF) 10 Cancer Prevention recommendations. To create these recommendations, WCRF reviewed and analysed decades of scientific research on diet, nutrition, physical activity and cancer, with the help of world-renowned, independent experts from across the globe. The sheer volume of evidence, the rigorous analysis, and the independent evaluation make these recommendations the most reliable advice available on diet, nutrition, and physical activity in relation to cancer prevention."
Cancer survivors and patient advocates have also supported the new book. Cancer Patient Advocate, Ms Eileen O'Sullivan, said: "The Anti-Cancer Cookbook is a welcome antidote to the abundance of potentially harmful fad diets and misinformation around the topic of cancer and diet. It is the exact nutritional resource that I would have loved to have had available to me pre, during and post cancer treatment."
Prof Niyati Parekh, Cancer Epidemiologist, Associate Professor of Public Health Nutrition, New York University, said: "Food is central to cancer treatment and prevention. This cookbook is consistent with the recommendations from the American Institute of Cancer Research and the lush pictures of the dishes provide excitement to try these simple, yet novel reliable recipes!"
'The Anti-Cancer Cookbook' is published by Cork University Press/Atrium and is available at all leading bookstores and through Amazon and The Book Depository.
This new book is a sequel to the co-authors' phenomenally successful award-winning cancer patient oriented cookbooks, 'Eating Well With Swallowing Difficulties in Cancer,' 'Nourishing Your Body During Pancreatic Cancer Treatment,' 'Good Nutrition for Cancer Recovery,' and 'Healthy Eating For Cancer Survivors,' which have been helping those fighting the disease maintain their weight.
For further press info or interview requests contact maria@e-t-c.ie or mobile 0851007201
Donate Now