Thursday November 19th is World Pancreatic Cancer Day 2020. We here at the Center for Tumor Immunology at the University of Rochester are excited to share some of our ongoing research. Our lab, led by Dr David Linehan and Dr Scott Gerber, works solely in developing novel therapies for pancreatic cancer. Our main strategy is to harness the immune system to fight this deadly disease using a combination of immunotherapy and radiation therapy.
Within this strategy, our lab focuses on a subset of cells within pancreas tumors that cause immunosuppression. We have recently found that a specific type of immune cell invades tumors after radiation therapy and may be involved in shutting off the immune response. Currently, we are attempting to understand how these cells invade, and also testing new drugs that prevent this. Our hope is that this early study will eventually lead to better responses in patients receiving both radiation and surgery.
Another key part of our research is not only on removing suppressive cells but also on re-educating immune cells residing within tumors so that they can be re-purposed to fight the tumor. This can be achieved with newer forms of radiation therapy that are highly targetable, which 'wakes up' the immune cells that are dormant and causes them to attack the tumor. We have coupled this radiation therapy with a molecule called a cytokine. When these cytokines are delivered in high doses to the tumor using specialised drug delivery platforms they are highly effective at 'educating' the local immune system, resulting in significant decreases in tumor size in our pre-clinical model. This data is very exciting and will be tested in clinical trials as early as 2021!
This research performed in our lab is directly responsible for the advancement of three investigator led clinical trials. We see this as a direct result of our labs close collaboration between scientists, surgeons and medical oncologists. I am personally excited by the advancement we are witnessing in the fields of immunotherapy and how they are being applied to treat pancreatic cancer. It is incredibly fulfilling to work in a lab that focuses on developing treatments for this disease. Our main hope is that we can keep making these advances with a singular goal to Make More Survivors!
Joseph Murphy
Charlie Fell Pancreatic Cancer Research Fellowship
Center for Tumor Immunology,
Wilmot Cancer Institute,
Rochester, NY.
www.urmc.rochester.edu/labs/tumor-immunology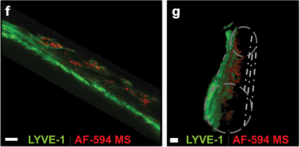 Our cytokine drug (Red) being delivered to a tumor through a lymphatic vessel (green).
This recent paper showed that our drug is effectively delivered to the tumor and is in close proximity to the immune cells we are attempting to harness for therapy.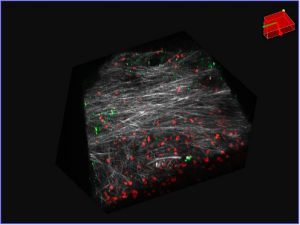 A pancreas tumor (white fibrous collagen).
With suppressive cells (red) being treated with our drug (green). We hope that this will remove these suppressive cells from the tumor and allow T lymphocytes to work better.
A recent paper our group published which shows a modified drug regimen coupled with radiation results in a significant survival advantage in our mouse model.
Ye J, Mills BN, Zhao T, Han BJ, Murphy JD, Patel AP, Johnston CJ, Lord EM, Belt BA, Linehan DC, Gerber SA. Assessing the Magnitude of Immunogenic Cell Death Following Chemotherapy and Irradiation Reveals a New Strategy to Treat Pancreatic
Donate Now