November 19th is World Pancreatic Cancer Day and as the only Irish member of the World Pancreatic Cancer Coalition, Breakthrough Cancer Research highlights the signs to look out for, and calls for more awareness and more research for patients and survival. It's about time.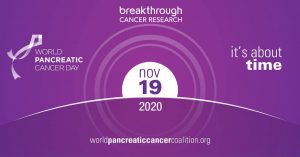 Pancreatic Cancer has the lowest survival rate of all major cancers and in Ireland the 5 year survival rate is just 9%. We cannot accept this.
For the 24-36 hours of World Pancreatic Cancer Day we shared videos, infographics and research stories on our social media channels and asked the public to share them so they reach as many people as possible.
A number of landmarks around Ireland lit up in purple, including:
· The Mansion House, Dublin
· The Convention Centre Dublin
· Cork City Hall
· UCC
· The Rock of Cashel
· Kilkenny Castle
· King John's Castle, Limerick
So every 19th November, please get involved: Wear Purple, Share Information and Demand Better.
Check out some updates from our pancreatic cancer researchers below:
Dr. Patrick Forde – Pancreatic cancer research update Nov 2020
Joseph Murphy – Pancreatic cancer research update Nov 2020
See links below to read about some of our research projects focused on Pancreatic Cancer:
Investigator-led trials on the horizon for pancreatic cancer research
Enhancing Electroporation Delivery for Pancreatic Cancer
Donate Now